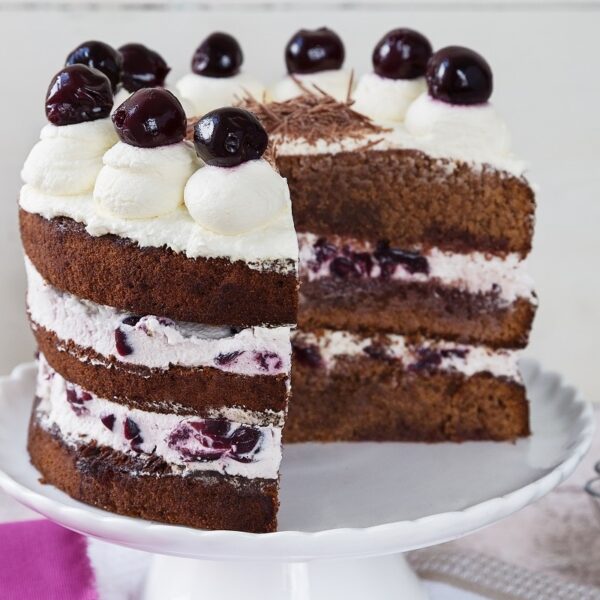 Black Forest Gateau
Ingredients:
Cake
150g/5oz Odlums Self Raising Flour
200g/7oz Chocolate (good quality, at least 60% cocoa)
2 tablespoons Milk
200g/7oz Butter, cut into pieces
200g/7oz Golden Caster Sugar
3 large Eggs, separated
Filling & Decoration
300ml/½pt Whipped Cream
50g/2oz Icing Sugar
1 tin Black Cherries, strained (reserve liquid for syrup)
125g/4oz Chocolate, grated or curls
Syrup
Reserved liquid from Black Cherries
125ml/4fl oz Kirsch
Method:
1. Preheat oven to 180°C/350°F/Gas 4. Grease and base line three 7″ sandwich tins.
2. Place the chocolate and milk in a bowl over a saucepan of simmering water.
3. Stir continuously until the chocolate has melted.
4. Remove the bowl from the heat and beat in the butter/margarine, then the caster sugar.
5. Beat in for 3-4 minutes by hand or use an electric beater.
6. Fold in the flour and add the egg yolks one at a time.
7. Stiffly beat the egg whites and fold into the cake mixture.
8. Divide the mixture evenly between the sandwich tins.
9. Bake for 20-30 minutes or until firm to the touch. Turn onto a wire tray to cool.
To Make Syrup
1. Pour the liquid from the tin of cherries into a measuring jug. Add enough water to come to 225ml/8fl oz.
2. Pour into a small saucepan. Heat over a medium-low heat, stirring occasionally, for a few minutes until thickened.
3. Stir in the kirsch.
To Assemble Cake
1. Pour syrup over the three cakes. Reserve 12 black cherries and some of the whipped cream for decoration on the top of the cake.
2. Gently sandwich each cake together with the remainder of the whipped cream which has been sweetened with icing sugar and black cherries.
3. Decorate top of cake with the grated chocolate or curls. Pipe cream around edge and place cherries on top.
Note
Serves 6-8
Source: Odlums