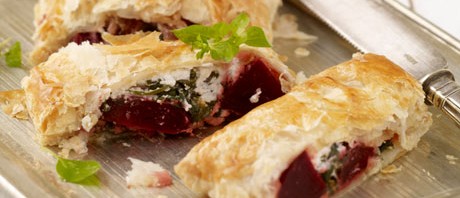 Beetroot, Spinach & Goats Cheese Parcels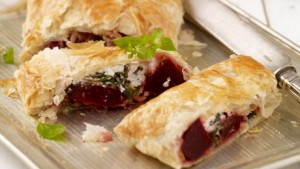 Ingredients
1 packets Puff Pastry
16oz Chef Beetroot
7oz Goats Cheese
3.5oz Spinach
1 Onion, diced
1oz Pine Nuts
1 Egg
0.5oz Butter
1 tbsp Balsamic Vinegar
1 tbsp Olive Oil
Salt and Pepper to season
Method
1. Put the butter into a large pan and melt over a moderate heat, add the onions and cook until softened and translucent, add the spinach and cook for 2–3 minutes until just wilted.
2.Remove from the pan, place in a colander and squeeze to remove excess moisture.
3.Cut the beetroot into 1cm dice, and place in a bowl with the spinach, balsamic vinegar, onion, pine nuts, and goats cheese, season and set aside.
4.Roll out the pastry on a lightly-floured surface, cut out 6 x 15cm squares.
5.Place the beetroot mixture into the centre of each pastry square then brush the pastry edges with egg.
6.Seal the pastry to form a parcel.
7.Place in a preheated oven for 20–22 minutes until golden and crisp.
8.Serve immediately with baby potatoes drizzled with butter and some green beans.