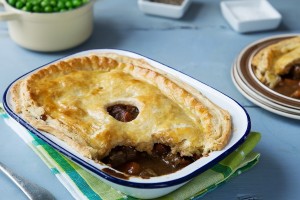 Ingredients:
2 tablespoons Odlums Cream Plain Flour
3 tablespoons Oil
750g/1½lb Rib or Round Steak, well trimmed and cubed
2 Onions, thinly sliced
3 Carrots, thinly sliced
1 tablespoon Dark Muscovado Sugar
500ml Guinness or Stout
Pinch of Mixed Herbs or Fresh Thyme
Salt and freshly ground Black Pepper
Pastry
225g/8oz Odlums Cream Plain Flour
125g/4oz Butter or Margarine
4 tablespoons Water (approx)
Method:
1. Preheat oven to 160°C/325°F/Gas 3.
2. Heat the oil in a saucepan. Brown the beef, a few pieces at a time, placing in casserole dish once browned.
3. Add the onion and carrot to the saucepan and cook for a few minutes.
4. Sprinkle in the sugar, herbs, salt, pepper and flour. Stir it around to soak up the juices; then gradually add in the Guinness, stirring all the time.
5. Bring to the boil and pour it over the meat in the casserole dish.
6. Put the lid on and cook in the oven for 1½ hours, or until the meat is tender.
7. Approximately 30 minutes before the end of cooking time, roll out the pastry and place on top of the casserole. If liked, cut a hole in the middle of pastry lid to allow steam to escape.
Pastry
1.Rub the butter/margarine into the flour until it resembles breadcrumbs.
2.Add sufficient water to make a soft dough. Lightly knead, then cover in cling film and leave to rest in fridge until ready to put on the casserole.
Source: Odlums