The best cuts of beef for casseroling are rib and shoulder. You can make the casserole and par boil the potatoes in advance, then assemble and reheat when you are ready to eat it.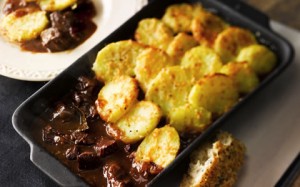 Ingredients:
750g rib steak, well trimmed and cut into cubes
2 tablesp. olive oil
2 onions, finely chopped
2 cloves garlic, chopped
1 tablesp. soft dark brown sugar
1 tablesp plain flour
200mls stout
300mls water
Sprigs of thyme
1 tablesp. red wine vinegar
1 tablesp. Lakeshore wholegrain mustard
Pinch of ground cloves
A little salt and freshly ground black pepper
850g large potatoes, peeled
50g mature cheddar cheese, finely grated
Method:
Set oven to Gas Mark 3, 160°C (325°F).
Heat a tablespoon oil in a frying pan. Then brown the beef, a few pieces at a time. Remove the meat as it brown to an ovenproof casserole dish. Heat the rest of the oil in the pan then add the onions. Cook for a couple of minutes to soften then add in the garlic. Cook for another minute, be careful not to let the garlic burn.
Then stir in the sugar and flour. Add in the stout and water or stock, stirring all the time. Then add a few sprigs of thyme, the red wine vinegar, mustard, ground cloves, a little salt and lots of black pepper. Bring to the boil then pour the sauce over the meat in the casserole dish. Cover with a lid or tin foil and cook in the oven for 1½ hours or until the meat is tender.
Meanwhile cook the potatoes in a saucepan of boiling water for 8-10 minutes. Drain well. Slice the potatoes into 1cm rounds and overlap them on top of the beef in the casserole dish. Season with salt and pepper then sprinkle over the cheese.
Increase the oven temperature to Gas Mark 6, 200°C (400° F). Place the casserole dish back in the oven and continue to cook until the potatoes are golden and cooked through – approximately 15 minutes.
Serve with a selection of root vegetable which have been tossed in a little olive oil and seasoning and roasted along with the casserole for the last 30 minutes.
Serving Suggestions
Roasted root vegetables.
Serves 6
Source: Bord Bia