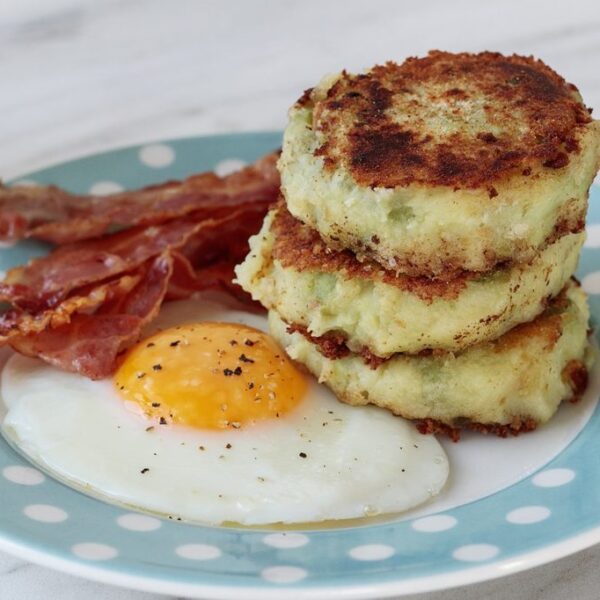 Batchelors Pea and Potato Cakes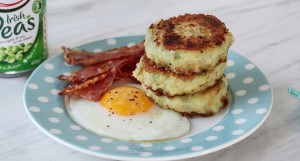 Ingredients:
800g potatoes, peeled and cubed
Salt and black pepper
1 x 400g tin of Batchelors Irish Peas
100g breadcrumbs
Vegetable oil, for frying
To serve:
Donnelly Bacon, fried eggs and/or Kerrygold butter

Method:
1. Place the potatoes in a pot and add enough cold water to cover them by about 2cm. Add a pinch of salt.
2. Bring to a boil over a high heat, then reduce the heat and cook for 15-18 minutes or until tender when pierced with a fork.
3. Add the peas and cook for 2-3 minutes.
4. Remove the potatoes from the heat and drain well. Return to the pan and allow to steam dry for 10-15 seconds.
5. Mash until well combined and smooth. Allow to cool.
6. Place the breadcrumbs in a shallow bowl.
7. When the potatoes are cool enough to handle, divide them into 12 equal portions. Shape each one into a potato cake about 1cm thick.
8. Carefully turn the potato cakes in the breadcrumbs until coated all over.
9. Heat two tablespoons of vegetable oil in a large frying pan over a medium-high heat.
10. Cook the potato cakes in small batches, leaving 2-3cm between them to avoid crowding. Cook for 3-4 minutes per side.
11. Transfer cooked potato cakes to a plate lined with kitchen paper to drain. Keep warm while you cook the rest. Add a little more oil whenever needed.
12. Serve with bacon and/or fried eggs, or simply with a knob of butter on top.
Source: Batchelors