Lovely fresh and summery flavours.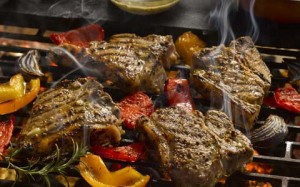 Ingredients:
8 sideloin lamb chops or lamb steaks
Salt and freshly ground black pepper
2 red and 2 yellow peppers, deseeded and cut into quarters
2 red onions, peeled and cut into wedges
A little olive oil
Marinade
1 tablesp. Dijon-style mustard
2 tablesp. wholegrain mustard
2 tablesp. honey
1 tablesp. lemon juice
2 garlic cloves, peeled and finely chopped
1 tablesp. rosemary leaves, finely chopped
Quinoa Salad
175g plain/tricolour quinoa
1 tablesp. lemon juice
2 tablesp. olive oil
1 small red onion, finely chopped
2 cloves of garlic, peeled and finely chopped
¼ cucumber, cut into small cubes
2 tomatoes, seeds removed and chopped
60g pitted black olives, quartered
1 tablesp. flat-leaf parsley, chopped
1 tablesp. mint leaves, chopped
Method:
To make the marinade: Mix together the mustards, honey, lemon juice, garlic and rosemary. Place the chops in a dish and pour over half the marinade. Reserve the rest to serve with the chops. Marinade the chops for 15 minutes if possible.
Meanwhile to make the salad: Cook the quinoa according to packet instructions. Drain and cool completely. Whisk together the lemon juice and oil and season with a little salt and black pepper. Toss the cooled quinoa in a bowl with the dressing. Then stir through the red onion, garlic, cucumber, tomatoes, olives, parsley and mint leaves. Taste and season.
To cook the chops: Heat the barbecue. Season the chops with a little salt and black pepper. Place on the barbecue for 2-3 minutes on each side or until cooked to your liking.
Toss the peppers and red onions in a little olive oil, season and cook alongside the chops.
Serving Suggestions
To serve: Drizzle the remaining marinade over the chops and serve with the quinoa salad and roasted peppers and onions.
Serves 4
Source: Bord Bia