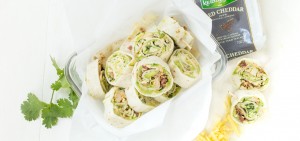 Ingredients:
2 ripe avocados, mashed
3 tablespoons Greek Yogurt
Juice of 1 lime
2 cups cooked chicken, diced
2 cups shredded Kerrygold® Aged Cheddar Cheese
1/2 cup chopped cilantro
1/2 cup chopped bacon
6- 8 inch tortillas
salt and pepper to taste
Method:
1. In a medium bowl, mash the avocado and stir in the Greek yogurt and lime juice.
2. Add chicken, cheese, and bacon to bowl and stir to combine. Season to taste with salt and pepper.
3. Divide mixture evenly among the tortillas and spread evenly almost to the edge.
4. Sprinkle with chopped cilantro and roll up pinwheel style.
5. Chill for at least one hour and slice into 1/4 inch pieces and serve.
Source: Kerrygold