Apple, Cinnamon, and Pecan Oatmeal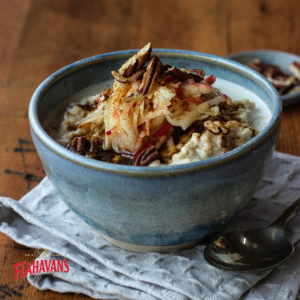 Ingredients:
1 part rolled oats to 2 parts milk
Pinch of salt
1 apple
2 tbsp honey
Handful toasted pecans, roughly chopped
Method:
1. Measure the porridge in a small glass then add it to a small sauce-pan with twice the milk.
2. Place the saucepan on a medium-high heat and bring to the boil, then turn the heat to low.
3. Add a pinch of salt and stir until you have a thick, creamy mixture.
4. Grate the apple and stir half of it into the porridge, then add the cinnamon and honey and mix well.
5. Serve the porridge in a bowl then top it with the rest of the grated apple, some more cinnamon and honey.
6. Sprinkle the toasted pecans on top, it's a nice little addition to add some cold milk over the top to if you like.
Source: Flahavans