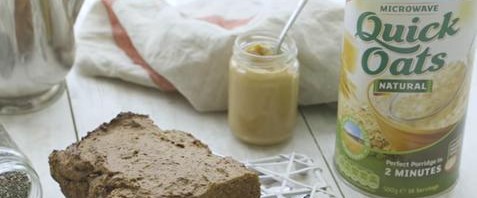 All In One Breakfast Loaf
Ingredients:
220 g oats
3 soft bananas mashed
4 tbsp. almond butter
2 tbsp. cacao powder
2 tbsp. chia seeds
1 tbsp. coconut oil – melted
2 tbsp. maple
3/4 tsp baking powder
1 tsp Vanilla extract
Method:
1. Preheat the oven to 180˚C
2. Blend oats into flour using a Nutri Bullet or blender.
3. Add in the baking powder and raw cacao.
4. In a large bowl, mash up the bananas using a fork. Stir in the maple, vanilla and almond butter.
5. Combine the wet mix into the oat flour.
6. Melt the coconut oil and stir into the dough.
7. Then, stir in the chia seeds.
8. Spoon the mixture into a lined bread tin and smooth over the top. The dough will be heavy and thick.
9. Bake for 50 minutes at 180˚C or until firm to tap and crispy.
10. Let cool fully for an hour before removing from the tin and slicing.
Source: Flahavans & Roz Purcell