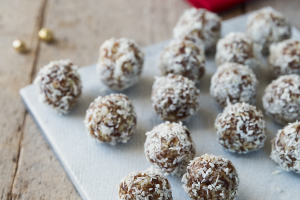 Ingredients:
250g/8oz Dates
100g Almonds (Whole/Chopped)
75g Pecan Nuts
2 Tablespoons Raw Cacao Powder
1 Tablespoon Almond Butter
½ Teaspoon Cinnamon
½ Teaspoon Nutmeg
½ Teaspoon Ginger
Desiccated Coconut, for coating
Method:
1. Place all the ingredients, except the coconut, into a food processer.
2. Blend until all the ingredients have come together to form a dough.
3. Place the coconut on a plate.
4. Take tablespoons of the dough and roll into a ball, then roll in the coconut.
5. Repeat until all the balls are coated. Place in a fridge for a few hours to set. Then ready to serve!
Note:
Energy Balls can also be coated in Matcha powder or Baobab powder for a different twist!
Source: Odlums