These brownies are the perfect way to wow your date this Valentine's Day!
The cheesecake part of this is 'no bake', which makes it a really simple dessert to put together. Once you have the brownie base baked, it takes about 5 minutes to whip the cheesecake element together and then just leave it to set! This recipe uses fresh raspberries, but you could use strawberries or any other fruit you prefer, it's very flexible!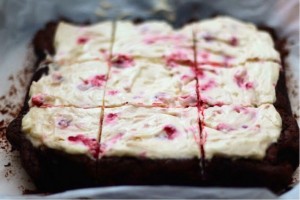 Ingredients:
Brownie Layer:
1 x Boutique Bake – Brownie Mix
150g melted butter
3 eggs
Cheesecake Layer:
100g icing sugar
250g cream cheese
150 ml cream
1 teaspoon of vanilla extract/ scraping of 1 x vanilla pod
1 small punnet of raspberries (washed)
Method:
Brownie Layer:
1. Preheat your oven to 180 C / 160 Fan.
2. Mix the Boutique Bake brownie mix with 3 eggs and 150g of melted butter until well combined.
3. Spoon mixture into a greased/lined square tin (10 x 7inch approx.).
4. Bake for 20 – 25 mins depending on how gooey you like your brownies!
Boutique Bake's Top Tip: If you want your brownies nice and gooey, make sure to take your brownies out of the oven when there is still a bit of a wobble in the centre and the edge parts are just beginning to cook!
Cheesecake Layer:
1. Whip the cream cheese with an electric whisk until nice and creamy. In separate bowl, whip the cream until it starts to become stiff.
2. Add the icing sugar to the whipped cream cheese and fold in the whipped cream.
3. Add in your teaspoon of vanilla extract/scraping of your vanilla pod. Cut your raspberries in half and then fold in to your mixture.
4. Once your brownie is completely cooled, gently spread your cheesecake mixture on top, spreading until even.
5. Pop into the fridge for about 4 hours to allow set before taking out of tin.
6. Once set, remove from the tin and slice into 9 or 12 squares (we went for 9 for some extra generous portions!)
7. Serve with more raspberries and some lightly whipped cream for a real treat. Enjoy!
Source: Boutique Bake