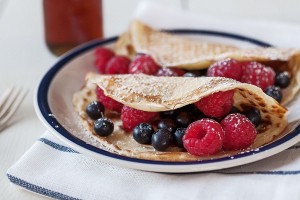 Ingredients:
125g/4oz Odlums Cream Plain Flour
Pinch of Salt
1 Egg
300ml/½pt Milk
Oil for frying
Method:
1. Sieve flour and salt into a bowl.
2. Make a well in the centre of the flour, break in the egg and add about a third of the milk.
3. Beat well, gradually pouring in the rest of the milk and drawing in the flour to make a smooth batter.
4. Pour batter into a jug and allow to stand for about 30 minutes.
5. Brush a pancake pan or frying pan with oil. When the pan is hot, give the batter a stir before pouring a thin layer onto the pan.
6. Fry until golden brown. Turn and fry the other side until brown also.
7. Stack pancakes on a large plate, as they are cooked.
8. Fill with fresh fruit and drizzle with maple syrup, or choose one of our other delicious sweet or savoury fillings below. Enjoy!
Tasty Filling Suggestions:
Dust with Shamrock Golden Caster Sugar, add a squeeze of lemon juice, roll up and serve
Drizzle with Rowse Honey and top with Shamrock Pecan Nuts or Chopped Almonds
Fresh fruit served with natural yoghurt and whipped cream
Stewed apples, flavoured with cinnamon and a dollop of fresh cream
Top with chocolate spread or Shamrock Chocolate Chips and a scoop of icecream
Diced chicken with salsa sauce
Cottage cheese and sliced pineapple
Poached egg and Hollandaise sauce
Source: Odlums