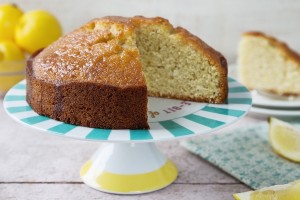 Ingredients:
225g/8oz Odlums Self Raising Flour
225g/8oz Butter (room temperature)
225g/8oz Golden Caster Sugar
4 Eggs, beaten
Rind of 1 Lemon, finely grated
Lemon Drizzle Topping
Juice of 1 Lemon
75g/3oz Golden Caster Sugar
Lemon Rind, to decorate
Method:
1. Preheat oven to 180°C/350°F/Gas 4. Grease and base line a 8″/20cm deep cake tin or spring form tin.
2. Beat together the butter and sugar until pale and creamy, then gradually add the eggs, slowly mixing through.
3. Gently add the flour and the lemon rind. Mix well to combine.
4. Transfer mixture to prepared tin and level the top with a spoon.
5. Bake for 45-50 minutes until well risen and golden brown. Cake is baked when it springs back top if gently pressed!
6. While cake is cooling in the tin, mix together the lemon juice and the sugar to make the drizzle.
7. Prick top of warm cake with skewer or fork, then gently pour over the drizzle.
8. The juice will sink into cake and the sugar will form a lovely crisp topping. Decorate with lemon rind on top.
9. Leave in tin to get cold, then remove and serve.
10. It will also keep in an airtight container for 3 to 4 days or freeze for up to 1 month.
Source: Odlums