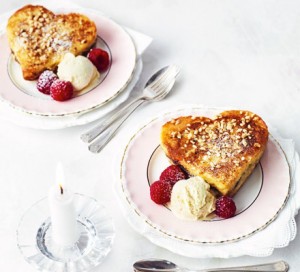 A loving Valentines brunch..
Ingredients
4 slices from a small sliced brioche loaf
3 tbsp chocolate spread
1 large egg
75ml whole milk
1 tsp vanilla extract
1 tbsp caster sugar
2 tbsp chopped toasted hazelnuts
1 tbsp butter
icing sugar, for dusting
ice cream, to serve
raspberries, to serve
Method
1.Thickly spread 2 of the brioche slices with the chocolate spread, then top with the remaining slices to make 2 sandwiches. Use a large heart-shaped cutter to cut the sandwiches into hearts.
2.Whisk the egg, milk, vanilla and caster sugar in a wide, shallow bowl. Tip the hazelnuts onto a plate. Dip the sandwiches into the egg mixture, leave for 1-2 mins each side to allow the brioche to soak up the liquid, then dip one side of each sandwich into the nuts. The sandwiches can be chilled like this, covered loosely with cling film, for up to 1 hour.
3.Heat the butter in a wide frying pan until melted and foaming. Add the sandwiches and cook for 1-2 mins each side until golden brown and puffed up. Dust with a little icing sugar and serve with ice cream and raspberries.