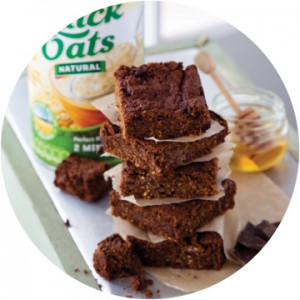 Ingredients:
Serves 8 brownies
400g sweet potato peeled and chopped
200g Flahavan's Oats
½ tbsp. baking soda
2 tbsp. coconut oil
2 tbsp. honey/maple- for vegan
70g dark chocolate chips
2 tbsp. cacao powder
4 tbsp. almond milk
Method:
1. Preheat the oven to 180°C
2. In a saucepan, steam the sweet potato until tender. Set aside to cool.
3. Blend the oats in a food processor or nutribullet until a flour consistency is reached (40 seconds).
4. Place the oats in a large mixing bowl, along with the baking powder.
5. Blend the sweet potato into a smooth puree in a nutribullet or food processor.
6. Melt the coconut oil and set to one side.
7. Pour the blended sweet potato along with the honey, melted coconut oil, cacao powder and almond milk into the oats.
8. Using a spoon combine well to create a smooth thick batter.
9. Stir in the chocolate chips and pour into a greased or lined brownie tin.
10. Bake for 40 minutes.
Source: Flahavan's 2 minute recipes with Roz Purcell