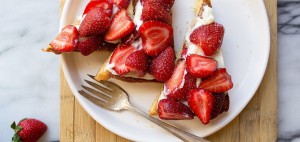 Ingredients:
2 slices of brioche bread (1″+ thick)
3 tablespoons Kerrygold Salted Butter
1 teaspoon granulated sugar
1/4 cup whipped cream cheese
1/4 cup + 2 teaspoons powdered sugar (can substitute honey or coconut sugar)
1/4 teaspoon orange zest (or orange blossom water)
1/2 cup sliced strawberries
Coarse sugar, optional
Method:
1. Preheat a skillet over medium heat.
2. Butter each side of the bread, saving 1 tablespoon of the butter for the skillet. Sprinkle the bread with granulated sugar.
3. Add the remaining tablespoon of butter to the hot skillet, and then add the bread to the skillet.
4. Toast the bread on each side until golden brown, about 1 minute per side.
5. Meanwhile, slice the strawberries and toss them with 2 teaspoons of powdered sugar. Set aside.
6. In a small bowl, beat together the cream cheese, remaining 1/4 cup of powdered sugar and orange zest until fluffy.
7. Remove the toast from the skillet, and top each slice with the cheesecake filling, followed by the strawberries.
8. I like to sprinkle coarse sugar on top before serving, but it's optional.
Source: Kerrygold USA & Dessert For Two