When it comes to chicken wings, everyone has their favourites but we guarantee you this recipe will be hard to beat! The sticky sauce along with the blue cheese dip is nothing short of delicious.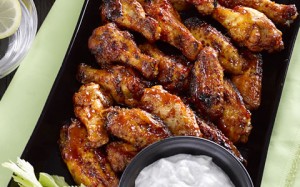 Ingredients:
1kg chicken wings
3 teasp. paprika
2 teasp. coarsely ground black pepper
½ teasp. cayenne pepper
1 tablesp. fresh thyme leaves
A little oil
Sticky Sauce
5 tablesp. tomato ketchup
2 tablesp. honey
1 teasp. Tabasco
1 teasp. Dijon style mustard
Juice of a lemon
Blue Cheese Dip
75g blue cheese, mashed
100mls Greek style natural yoghurt
To Cook
Heat the oven to Gas Mark 6, 200˚C (400˚F).
Method:
1. Cut the wing tips off each chicken wing and discard. Then cut each wing in half through the main joint.
2. In a large bowl mix together the paprika, black pepper, cayenne pepper and fresh thyme.
3. Add in the chicken wings and toss until coated the spices.
4. Line a large roasting tin with tin foil then spread the wings over the foil.
5. Place in the preheated oven and cook for 30 minutes, turning the wings half way through.
6. Meanwhile mix together the tomato ketchup, honey, tabasco, mustard and lemon juice.
7. After the wings have cooked for 30 minutes, remove them from the oven and brush over the ketchup mixture.
8. Return to the oven for another 10 minutes. At this stage the wings should be golden and sticky. Remove from the oven.
9. Mix the blue cheese into the yoghurt and serve with the wings, celery sticks and a green salad.
Serves 6
source: Bord Bia