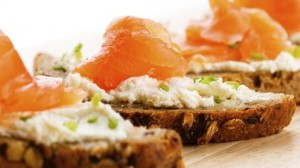 Quick and simple appetizer
Ingredients
200 g carton cream cheese
2 tblsp finely diced radish
1 tblsp snipped fresh chives
1 tsp english mustard
2 tsp horseradish sauce
200 g packet smoked salmon slices
6-12 slices of brown soda bread
50 g tiny cherry tomatoes, halved
4 tblsp rice wine vinegar
2 tblsp caster sugar
1 baby cucumber, pared into thin strips with a vegetable peeler and then halved lengthways
1 red onion, cut into fine wedges
salt and white pepper
Method
1.Place the cream cheese in a bowl and mix in the radish, chives, mustard and horseradish sauce. Season to taste. Line 50-120ml (2-4fl oz) espresso cups or dariole moulds with clingfilm. Stamp or cut out rounds from the soda bread in varying sizes to fit the cups – you'll need three for each cup. Repeat with the smoked salmon – you'll need six for each cup.
2.Spoon a tablespoon of the cream cheese mixture into the bottom of each cup and then arrange two pieces of the salmon on top. Add a round of soda bread and then repeat the layers until all the ingredients have been used up, finishing with a round of soda bread. Wrap in clingfilm and chill for at least 1 hour to allow the layers to set, or up to 8 hours is fine.
3.To make the pickled cucumber and red onion; place the vinegar into a bowl and stir in the sugar to dissolve. Add the cucumber strips and onion wedges and toss to coat. Cover with clingfim and set aside for at least 10 minutes, or up to 8 hours is fine.
4.To serve, carefully turn out the timbales and peel away the clingfilm. Cut each one in half and arrange two halves on each serving plate. Spoon the pickled cucumber and red onion salad and scatter around the cherry tomatoes. Garnish with the micro herbs to serve.