Scotch eggs are having a huge revival at the moment and currently are on the menu in many trendy cafes and restaurants. You can add lots of exciting ingredients to the sausage meat to introduce new flavour such as ginger, fresh herbs or grainy mustard. They are best served warm but can also be reheated. Scotch eggs are great for brunch served with a small side salad.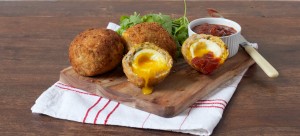 Ingredients:
Serves 6
450g (1lb) best-quality (or homemade) sausage meat
6 hard-boiled or semi-hard boiled eggs ( preferably free-range)
1 tbsp freshly chopped herbs, e.g parsley, chives, thyme
½ tsp English mustard
1 beaten egg
Seasoned flour
Dry, white breadcrumbs (but not too fine)
Best-quality oil for deep frying
Method:
1. Bring a saucepan of water to the boil and out in the eggs carefully, one by one.
2. Bring back to the boil and simmer for 5-7 minutes. (The eggs should be covered with water.)
3. Pour off the water and cover with cold water. The time depends on whether a runny or hard boiled yolk is required.
4. Mix the fresh herbs and mustard thoroughly through the sausage meat. Divide the sausage meat into 6 even-sized pieces.
5. Put a piece of sausage meat onto a floured board and flatten it with your hand into an oval shape, large enough to cover an egg.
6. Shape the sausage meat around the peeled egg with your hands, making sure that the egg is evenly coated and there are no cracks.
7. Cover the rest of the eggs in the same way.
8. Roll the eggs in seasoned flour, beaten egg and finally coat them with dry, white breadcrumbs. Coat all the eggs in the same way.
9. Heat the oil for deep-frying, making sure it is deep enough to cover the eggs.
10. The oil should be a medium heat, 180°C/ 350°F, because if it is too hot, the outside will be brown before the inside is hot.
11. Put the Scotch eggs into the basket (a few at a time) and lower them into the oil. Fry them for 5-6 minutes, then lift them out of the pan and drain on the kitchen paper.
12. Serve warm with a green salad and Ballymaloe Relish.
Source: Ballymaloe Foods