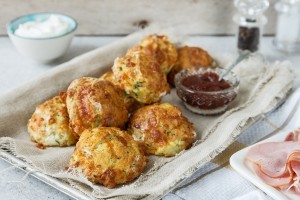 Ingredients:
300g/11oz Odlums Cream Plain Flour
1 small Courgette
1 teaspoon Golden Caster Sugar
1 level teaspoon Bread Soda, sieved
Pinch of Salt
125g/4oz Grated Cheddar Cheese
3 tablespoons Chopped Chives
150ml/¼pt-300ml/½pt Buttermilk
Method:
1. Preheat oven to 200°C/400°F/Gas 6. Lightly dust a baking sheet/tray with flour.
2. Coarsely grate the courgette onto kitchen paper and squeeze out excess moisture.
3. Place the flour, sugar, bread soda, salt, grated cheddar and chives into a mixing bowl and mix well.
4. Finally add the courgette and sufficient milk to make a soft dough.
5. Turn onto a floured surface and gently knead. Place tin in oven to heat.
6. Roll dough out to about 2cm/1″ and cut out scones. Place on preheated tin and bake for 15-20 minutes until risen and golden brown.
7. Cool on a wire tray. Delicious served with ham and Ballymaloe Relish or smoked salmon.
Source: Odlums