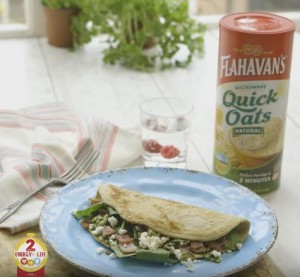 Makes: 2 crepes
Ingredients:
50g Flahavan's oats
2 eggs
80 ml almond milk
1 tbsp. dried Italian herbs
1 tsp. olive oil
Filling
2 tbsp. pesto
4 slices bacon (diced with the fat trimmed away and cooked to your liking)
handful fresh parsley chopped
2 handfuls baby spinach leaves washed and chopped
40g cube feta crumbled
Method:
1. Blend the oats, eggs, almond milk and herbs until smooth.
2. Prepare a non-stick pan over a medium heat with a drizzle of olive oil.
3. Pour in half the batter and spread out evenly covering the base of the pan.
4. Cook for 2 minutes before flipping and cooking the other side for a final 90 seconds.
5. Repeat process for the next crepe.
6. Fill the crepe with your filling; diced bacon, pesto, spinach and feta and enjoy!
Source: Flahavans & Roz Purcell