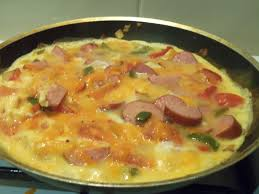 Ingredients
1 tbsp Lakeshore rapeseed oil
12 Eggs
50ml Milk
4oz Tomatoes, rooughly chopped
8 breakfast sausages, cooked
salt & pepper, to season
Method
1.Preheat the oven to 160C/325F/Gas Mark 3.
2.In a bowl whisk together the eggs, milk and seasoning. Slice the sausages into 2 cm pieces.
3.Drizzle the oil on an ovenproof pan over a medium heat and add the tomatoes and sausages. Cook for 1 – 2 minutes. Pour the egg mixture over the sausage and tomatoes
and cook for 5 minutes over a medium heat.
4.Transfer to a preheated oven and cook for 10 -12 minutes, then remove from the oven and allow rest for a minute or two. Serve immediately.