It is worthwhile roasting an extra large shoulder of pork joint so that you have some left over for these really tasty sandwiches.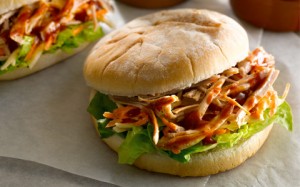 Ingredients:
400g left-over shoulder of pork
Salt and freshly ground black pepper
Lettuce leaves and burger buns
Quick Barbecue Sauce:
4 tablesp. tomato ketchup
1 tablesp. honey
1 tablesp. wine vinegar
1 tablesp. Worcestershire sauce
Dash of Tabasco
Carrot, Celeriac and Fennell Salad
2 carrots, peeled and very finely shredded
¼ of a celeriac, peeled and very finely shredded
1 fennell bulb, very finely shredded
2 tablesp. low-fat mayonnaise
1 tablesp. wholegrain mustard
Juice of ½ a lemon
Method:
Start by making the Quick Barbecue Sauce. Simply combine all the ingredients, taste and season. Then shred the pork using two forks – hold the meat with 1 fork and 'pull' it away with the other. Put the shredded pork in a bowl. Stir through 2 tablespoons of the barbecue sauce and mix well.
Next make the salad – place the carrots, celeriac and fennell in a bowl. Mix together the mayonnaise, mustard and lemon juice and stir this through the vegetables. Taste and season.
To make up the sandwiches, cut the buns in half and lightly toast them. Place lettuce leaves on the base of each bun then spoon on some salad, then pile on the pork. Drizzle the barbecue sauce over the pork.
Serving Suggestions
Serve with oven baked chunky chips and the remaining salad and barbecue sauce on the side.
Serves 4
Source: Bord Bia