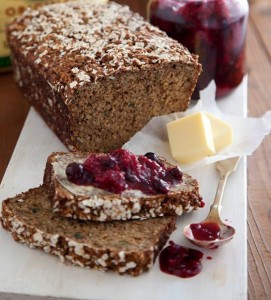 A delicious healthy, nutritious and wheat free bread
Ingredients:
1 Large Tub (500ml) Natural Yogurt
1 Beaten Egg
300g (12oz) Flahavan's Progress Oatlets
2 tsp Bread Soda
1 tbsp Treacle (Optional)
2 tbsp Mixed Seeds (Optional)
1/2 tsp Salt (Optional)
Method:
1. Place yogurt, beaten egg and treacle in a mixing bowl and stir well.
2. Mix the pats, bread soda, seeds & salt in a separate bowl, add to the yogurt mixture and stir thoroughly.
3. Place in a greased or parchment lined 2lb loaf tin, sprinkle with oats and bake at 180C/350F/Gas Mark 4 for 30 mins.
4. Lower temperature to 150C/300F/Gas Mark 2 and cook for a further 30 mins.
A sweeter version of this bread can be made by adding some dried fruits or you can use chopped sundried tomatoes and basil for a savoury version.
Source: Flahavans