Lovely spicy marinade!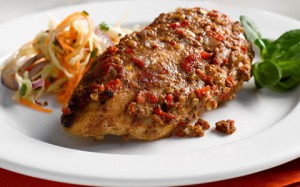 Ingredients:
4 skinless chicken breasts
A little salt and freshly-ground black pepper
Marinade
2 red chillies, deseeded and finely chopped
Juice of 2 limes
2 cloves garlic, chopped
1 teasp. ground coriander
1 teasp. ground cinnamon
1 teasp. ground ginger
1 teasp. sugar
1 tablesp. olive oil
Salad
½ small white cabbage
4 carrots
1 red onion
1 teasp. Lakeshore mustard
1 tablesp. white wine vinegar
2 tablesp. olive oil
Handful fresh coriander, chopped
Method:
1. Combine the marinade ingredients in a bowl. Add in the chicken breasts and stir to coat them in the marinade.
2. Leave to marinate for as long as you can, but for at least 15 minutes.
3. Heat the oven to Gas Mark 6, 200°C (400°F).
4. Put the chicken in an oven-proof dish, season with salt and black pepper and place in the oven. Roast for 30 minutes.
5. While the chicken is cooking make the salad. Shred the cabbage, carrots and onion in a processor if available, if not slice them very finely.
6. Place the vegetables in a serving bowl. Combine the mustard, white wine vinegar, olive oil, fresh coriander and seasoning.
7. Mix well, then pour the dressing over the vegetables and stir to combine.
Serving Suggestions
Serve with the chicken and baked or steamed potatoes.
Serves 4
Source: Bord Bia