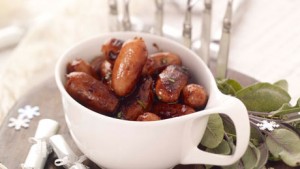 Ingredients
1lb Cocktail Sausages
30 ml Worcestershire Sauce
1 tbsp Honey
1 tbsp Olive Oil
Method
1.Heat the oil in a pan and add the cocktail sausages, cook for 2 – 3 minutes on each side until they are fully browned and cooked through.
2.Once cooked remove the sausages from the pan and place on some kitchen paper to remove excess oil.
3.Place the sausages in a large bowl and pour over the honey, coating the sausages, add the Worcestershire sauce.
4.Serve immediately on forks or cocktail sticks.