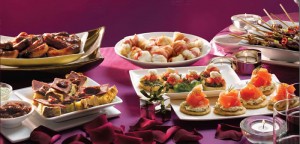 Sausages with Mustard, Honey and Chopped Rosemary
Combine 1 tablespoon mustard, 2 tablespoons honey and 1 teasp. chopped rosemary. Grill 500g sausages. When cooked toss in the mustard and honey mixture to coat
Monkfish Wrapped in Bacon
Cut the monkfish into pieces about 2cm wide.
Cut each rasher into 2 or 3 pieces and use these to wrap the pieces of monkfish. Place, joint side down on a grill rack and cook under the hot grill for 5–8 minutes.
Serve with a herb dressing made by mixing 150mls mayonnaise in the processor with 1 tablespoon warm water, 1 chopped garlic clove and a bunch of basil.
Smoked Salmon with Herbed Cream Cheese
Spread some herbed cream cheese on blinis and top with smoked salmon. Blinis are small pancakes made from buckwheat flour. If you can't get them use brown soda bread or small pieces of toast
Tomato, Pesto and Goats' Cheese Crostini
Using a small pastry cutter, if available, cut rounds from slices of white bread – you should get 4–5 rounds per slice.
Alternatively thinly slice a French stick. Brush with a little olive oil and toast in a hot oven for a couple of minutes. Mix together some freshly chopped tomatoes, chopped scallions and coriander, seasoning and a little olive oil.
Top each round of toast with ½ teasp. pesto, a spoonful of the tomato mixture and some soft goats' cheese