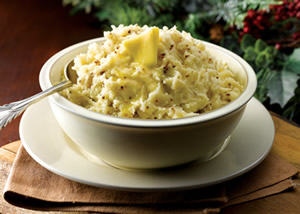 Ingredients
1½ kg potatoes, peeled
300mls milk
3oz butter
2 tablesp. wholegrain mustard
Salt and freshly-ground black pepper
To Cook
Place the potatoes in a large saucepan and cover with boiling salted water.
Bring to the boil then reduce the heat and simmer until just soft.
Drain and keep warm.
Heat the milk and butter then beat it into the potatoes with the mustard and seasoning until smooth and creamy.