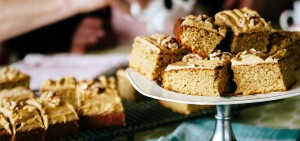 Ingredients:
For the cake:
8oz self-rising flour
8oz superfine sugar
8oz Kerrygold Irish Butter, softened
4 farm fresh eggs
1 tbsp coffee essence
Walnuts to decorate
For the icing:
8oz powdered sugar
4oz Kerrygold Irish Butter
Dash of coffee essence
Method:
1. Preheat the oven to 325°F. Grease a 9x11in baking dish, line with parchment paper and set aside.
2. Place the softened butter, flour, superfine sugar, and coffee essence in a bowl. Break the eggs in and then beat everything together until smooth and well blended.
3. Spread the mixture into the prepared baking dish, leveling it smooth with the back of a spoon.
4. Bake for 25-30 minutes until golden and cooked through. Remove the cake from the baking dish and leave to cool completely on a wire rack.
5. For the icing, mix the butter, powdered sugar and coffee essence together in a bowl until smooth and well blended.
6. Spread the icing evenly over the top of the cake. Arrange the walnut pieces all over the top. Cut into wedges and serve.
Source: Kerrygold USA