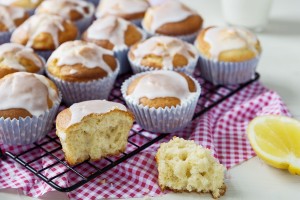 Ingredients:
275g/10oz Odlums Cream Plain Flour
125g/4oz Golden Caster Sugar
4 teaspoons Baking Powder
225ml/8fl oz Milk
100ml/4fl oz Vegetable Oil
2 Eggs
Pinch of Salt
Rind of 2 Lemons
Lemon Drizzle Topping
Juice of 1 Lemon
225g/8oz Icing Sugar (approx)
Method:
1. Preheat oven to 200°C/400°F/Gas 6. Line a muffin tin with paper cases.
2. Sieve the flour, sugar, salt and baking powder into a bowl. Add the lemon rind and mix well.
3. In a jug beat together the milk, oil and eggs. Add to the dry ingredients and roughly mix together, do not beat.
4. Spoon the mixture into the muffin cases.
5. Bake for about 30 minutes until well risen and golden brown. Cool on a wire tray.
6. Make the lemon drizzle topping by mixing together the lemon juice and enough icing sugar to make a thick pouring icing.
7. Spoon over the cooled muffins and store in an airtight container.
Source: Odlums