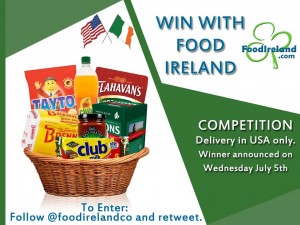 Here is your the chance to win an Irish Food Hamper!
For your chance to win, just follow us on Twitter @FoodIrelandCo and retweet our competition!
This hamper is filled with some of our most popular products. This product cannot be shipped outside of the United States.
Contents:
1 x Tayto Cheese and Onion 6 Pack 150g (5.3oz)
1 x Lyons Original Blend 80 Tea Bags
1 x Brennans White Bread 800g (28.2oz)
1 x Jacobs Club Milk 5 Pack 120g (4.2oz)
1 x Flahavans Progress Oatmeal 1Kg (35.2oz)
1 x Club Orange 1.25L (42.3fl oz)
1 x Ballymaloe Original Jar 311g (11oz)
Competition closes on Wednesday July 5th
One winner will be selected at random and announced on Wednesday July 5th. Delivery in the USA only.
Terms & Conditions:
1. This promotion is open to residents of the USA only. 2. No purchase necessary. 3. Entry is only available online. No responsibility can be accepted for entries not received, only partially received or delayed for whatever reason. 4. Entries only valid via Twitter. 5. Entries that are incomplete, defaced or damaged will be deemed invalid. 6. Entries must not be sent through agencies or third parties. Any such entries will be invalid. No trade or multiple entries. 7. No responsibility will be accepted for entries lost, delayed or damaged in transmission. 8. There is one entry per person. 9. Competition closes on Wednesday July 5th. Entries received after this time and date will not be entered into the draw. 10. The prize is 1 Irish Food Hamper. 11. The decision of the promoter in all matters is final and binding. 12. The Promoter reserves the right to withdraw the promotion due to circumstances beyond its control. 13. Neither Food Ireland Inc. ,or any other respective agents involved with this promotion shall be liable for any failure that is caused by something outside its reasonable control. Such circumstances shall include, but not be limited to, weather conditions, fire, flood, hurricane, strike, industrial dispute, war, hostilities, political unrest, riots, civil commotion, inevitable accidents, supervening legislation or any other circumstances relating to Force Majeure.