Shredded Kerrygold Reserve Cheddar is the base of this flavorful cheese fondue. The strong taste of the aged cheddar is an ideal match for the dark stout beer. Rather than compete for center stage, the flavors complement each other. But for all of you non-beer lovers out there, don't worry; this fondue doesn't have an obvious beer taste. It's the roasted flavors in the beer that really shine through and add to the depth of the sharp cheddar.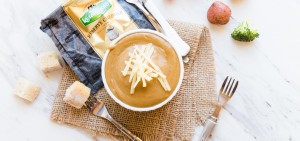 Ingredients:
1 pound Kerrygold Reserve Cheddar, shredded
2 tablespoons cornstarch
1 garlic clove, peeled
1 cup Irish stout beer
1 teaspoon dry mustard
1/4 teaspoon ground red pepper (cayenne)
2 teaspoons Worcestershire sauce
Food for dipping (bread, pretzels, roasted or raw vegetables, cured meats, etc.)
Method:
1. Place cheese and cornstarch in a bowl and toss to coat evenly. Set aside.
2. Rub the inside of the fondue pot with the garlic clove. Discard garlic.
3. Add beer to a medium saucepan. Cook over medium heat until liquid is simmering.
4. Gradually add handfuls of cheese to the saucepan, stirring until each handful is melted before adding more.
5. Remove from heat and stir in mustard, ground red pepper and Worcestershire sauce once all cheese is melted.
6. Pour cheese mixture into prepared fondue pot and keep warm.
Source: Kerrygold USA