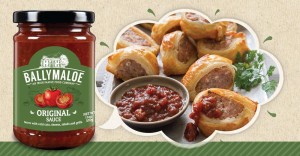 Ingredients:
Serves 8-10
For the sausage rolls:
225g (80z) lean pork, minced
225g (80z) pork fat, minced
1 clove garlic, crushed
1-2 tsp thyme, marjoram, basil and rosemary, mixed and chopped
1 egg, beaten
1 ½ cups soft breadcrumbs
Salt and pepper to taste
For the pastry
300g (10oz) puff pastry:
Ballymaloe Original Sauce
1 egg, beaten
A little milk
Method:
1. Preheat the oven to 180°C/350°F/Gas Mark 4.
2. Combine all the ingredients for the sausages together and mix well.
3. Fry a little of the mixture in a pan to check the seasoning, adjust if necessary.
4. On a floured work surface, roll the pastry out into a big rectangle, a little thicker than a one euro coin, and cut length ways into two long, even rectangles.
5. You can spread a thin layer of Ballymaloe Original Sauce along the two rectangles.
6. Roll the sausage mixture into sausage shapes with your hands and lay along the centre of each rectangle.
7. Mix the egg and milk and brush the pastry with the mixture, then fold one side of the pastry over, wrapping the filling inside.
8. Press down with your fingers or the edge of a spoon to seal.
9. Cut the long rolls into the sizes you want and space them out on a baking tray.
10. Brush with the rest of the egg wash and bake in the preheated oven for 25 minutes or until puffed, golden and cooked through.
11. Serve with Ballymaloe Original Sauce.
Source: Ballymaloe