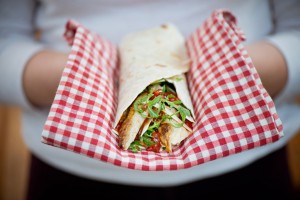 Ingredients:
(serves 2)
1 cooked chicken breast
2 wraps (plain or wholemeal)
2 handfuls of rocket
Shavings of Parmesan
Mayonnaise
Ballymaloe Jalapeno
Method:
1. Lay the wraps flat, spread generously with Ballymaloe Jalapeno, add a little mayo too if you like.
2. Top with lots of fresh rocket, slices of chicken and shavings of parmesan. Roll up the wrap, cut on the diagonal and enjoy!
Source: Ballymaloe Foods