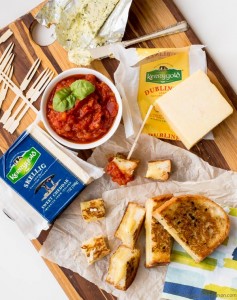 Ingredients:
Spicy Tomato Dipping Sauce:
2 teaspoons olive oil
1/3 cup chopped onion
1 teaspoon minced garlic
3 tablespoons tomato paste
1 (14.5-ounce) can diced tomatoes with basil, garlic and oregano
1/2 – 1 teaspoon red pepper flakes
Salt to taste
Grilled Cheese Bites:
Italian Bread, cut into 3/8-inch slices
Kerrygold Dubliner Cheese, cut into 1/8-inch slices
Kerrygold Skellig Cheese, cut into 1/8-inch slices
Kerrygold Garlic & Herb Butter
Method:
To make the tomato sauce:
1. Preheat a large skillet over medium heat. Add oil and onion and saute for 3 minutes.
2. Add garlic and cook for another 30 seconds. Gently stir in tomato paste and cook for another minute.
3. Stir in tomatoes and desired amount of red pepper flakes and bring to a boil.
4. Reduce heat to medium low and simmer for 10 minutes or until sauce has thickened slightly.
5. Season to taste with salt. If a smoother sauce is desired, pulse sauce in blender.
6. Keep sauce warm while making grilled cheese bites.
To make the bites:
1. Preheat a cast iron or nonstick skillet over medium heat. Spread butter on one side of bread slice.
2. Place bread with buttered side down in the pan.
3. Working quickly, top bread with one layer of Dubliner Cheese followed by another layer of Skellig Cheese.
4. Butter one side of another piece of bread and place it on top of the cheeses.
5. Cook for 3 minutes per side or until cheese is melted and bread is toasted.
6. Remove from heat, let cool slightly and cut into cubes. Skewer with toothpicks, if desired.
Source: Kerrygold