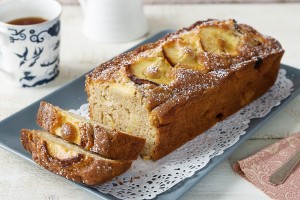 Ingredients:
225g/8oz Odlums Self Raising Flour
175g/6oz Butter or Margarine
175g/6oz Golden Caster Sugar
3 Eggs
1 level teaspoon Cinnamon (optional)
3 Apples (peeled & cored)
Method:
1. Preheat oven to 190°C/375°F/Gas 5. Grease and base line a 900g/2lb loaf tin.
2. Beat butter/margarine and sugar together. Add the eggs, one at a time, beating well after each addition.
3. Stir in the sieved flour and cinnamon, if used.
4. Roughly chop 2½ apples and stir into the mixture, then transfer to the prepared loaf tin.
5. Slice the remaining half apple into thin circles and arrange on top of mixture.
6. Bake for 40-50 minutes approx.
7. Allow to stand in tin for about 5 minutes, then turn onto a wire tray to cool.
8. To finish, dust with sieved icing sugar. Enjoy!
Source: Odlums