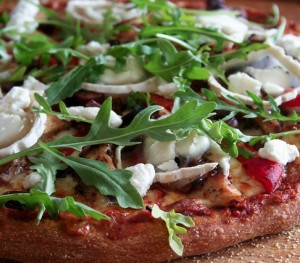 Ingredients:
175g/6oz Odlums Gluten Free White Bread Mix
150ml/_pt Water
1 Teaspoon Vegetable Oil
Filling
400g Tin Chopped Tomatoes
125g/4oz Goats Cheese, crumbled
1 Red Pepper, diced
50g/2oz Pine Nuts
Rocket, to garnish
Method:
1. Preheat oven to 200°C/400°F/Gas 6. Grease a 25cms-28cms/ 9″-10″ pizza tin.
2. Put the bread mix into a mixing bowl, add the water and oil and mix to a batter.
3. Transfer to the prepared tin and spread out evenly.
4. Bake for 10 mins in the preheated oven.
5. Remove from oven and spread over the chopped tomatoes, cheese and diced peppers.
6. Return to oven for a further 10 mins until cheese is melted.
7. Finally sprinkle Pine Nuts on top and return for 2-5 mins.
8. Garnish with rocket leaves and serve.
Source: Odlums