A meal in a bowl!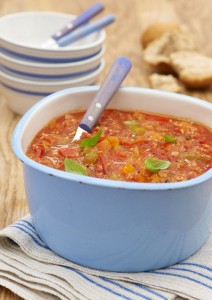 Ingredients:
1 stick celery
1 small onion, peeled
1 carrot
2 tbsp olive oil
1 clove garlic, crushed
750g/1 ½lb vine tomatoes, chopped
1 red pepper, deseeded and chopped
400g can tomatoes
300ml/ ½pt veg stock
50g/2oz Flahavan's Organic Oats
I tsp sugar or balsamic vinegar
Olive oil to drizzle
6 basil leaves, torn, to decorate
Method:
1. Dice the celery, onion and carrot finely.
2. Heat the olive oil in a large pan and fry the vegetables gently for 5 minutes until softened but not browned.
3. Add the garlic and fry for a few seconds then add the vine tomatoes and red pepper.
4. Cook for a further 5 minutes until softened. Add the canned tomatoes with 200ml water and the stock then bring to the boil.
5. Add the oats, stir well and simmer for 10 minutes. Season to taste and sweeten with a little sugar or balsamic vinegar if necessary.
6. Decorate with basil leaves and drizzle with olive oil before serving.
Source: Flahavan's