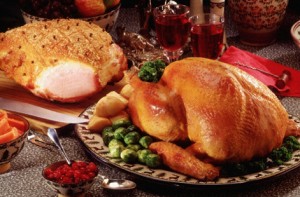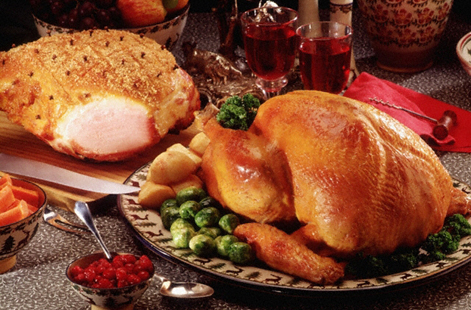 Don't have hours to spend cooking up your holiday dinner? Save some time by using the products below!
Ingredients:
Appetizer selection:
Knorr Cream of Vegetable soup or soup of your choice from our Knorr Soup selection
Main Course:
Turkey – any size
Donnelly's Butcher's Cut Irish Ham
Potatoes, peeled and diced
Vegetables of choice
1/2 lb of Irish Butter
Bisto Gravy Granules
Golden Fry's Yorkshire Pudding Mix
Ballymaloe Cranberry Sauce
Chef brown sauce
Salt and Pepper
Paxo Stuffing
Batchelors Peas
Dessert:
Mr. Kipling Mince Pies
Birds Ready to Serve Custard
The Turkey:
1. If you are stuffing the bird, stuff it loosely, allowing about ½ to ¾ cup Paxo stuffing (prepared as per the packaging) per pound of turkey.
2. Brush the skin with melted butter or oil. Tie drumsticks together with string (for stuffed birds only).
3. Insert a meat thermometer into the thickest part of the thigh. The thermometer should point towards the body, and should not touch the bone.
4. Place the bird on a rack in a roasting pan, and into a preheated 350 degree F (175 degrees C) oven. Generally, roast the turkey for 13 minutes per lb weight. Check with your butcher if you arent sure.
5. Bake until the skin is a light golden color, and then cover loosely with a foil tent. 6. During the last 45 minutes of baking, remove the foil tent to brown the skin. Basting is not necessary, but helps promote even browning.
7. The turkey is done when the internal temperature reaches 165 degrees F (75 degrees C) at the thigh.
The Ham:
1. To make clean up easier, line your roasting pan with aluminum foil. Do not add water to the roaster.
2. To avoid drying out ham, cook slowly at 325ºF. Allow 20 to 30 minutes per pound for ham that has not been precooked (follow directions on label for precooked hams).
3. Begin roasting ham by placing fat side up, the melting fat will baste your ham. Turn ham over half way through baking to avoid uneven salting from the brine in the meat.
4. For a crisp surface on your ham roast, be sure the oven is preheated before placing the roast into the oven in an uncovered pan.
5. Use proper cooking times and temperatures. Do not overcook pork or it will become dry and tough.
6. After ham has completed roasting, take ham out of oven and let stand 15 minutes before slicing. Ham will continue to bake when out of the oven and letting ham stand for 15 minutes makes it easier to carve.
The Side Dishes:
Cook peeled potatoes until soft. Drain and add in a splash of milk and a tablespoon of Irish butter. Mash until potato is lump free.
About thirty minutes before dinner, prepare the Yorkshire Pudding mix and bake. These should be taken straight from the oven and put on your plate to ensure fluffiness.
If you are using Batchelors peas, uncan, drain and boil in water for several minutes until peas are cooked.
Prepare Bisto Gravy granules with boiling water as per the package instructions.
Place turkey, ham, stuffing, potatoes, vegetables and yorkshire puddings on the plate. Pour Bisto Gravy generously over the meat. Serve with a spoonful of Cranberry sauce on the turkey and some Chef sauce on the side.
After your dinner, relax with some Mr. Kipling Mince pies, warm custard and a cup of Irish Tea!
Enjoy!