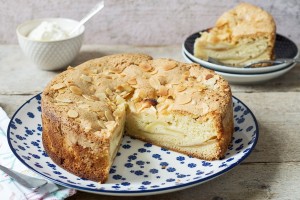 Ingredients:
225g/8 oz Odlums Self Raising Flour
1 level teaspoon Baking Powder
225g/8 oz Golden Caster Sugar
2 Eggs
Few drops Almond Essence
150g/5 oz Butter, melted
350g/12 oz Cooking Apples, peeled, cored and sliced
25g/1 oz Flaked Almonds
Method:
1. Preheat oven to 190°C/375°F/Gas 5. Lightly grease and base line a 20cm/8″ deep cake tin.
2. Place the flour, baking powder, caster sugar, eggs, almond essence and melted butter into a mixing bowl and mix well together.
3. Spread half the mixture into the prepared tin. Place the sliced apples on top of the mixture in the tin, piling them mainly towards the centre.
4. Using two tablespoons, roughly spoon the remaining mixture over the apples. Do not worry if it is a bit rough looking as it spreads during baking.
5. Sprinkle with the flaked almonds and bake for about 45-60 minutes until brown and set.
6. Serve hot with ice cream or custard. Alternatively, serve cold or warm dusted with icing sugar.
Source: Odlums