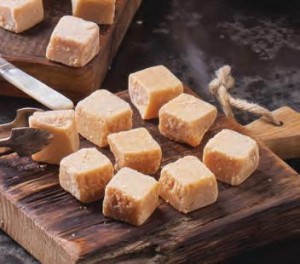 Ingredients:
450g/1lb Golden Caster Sugar
300ml Double Cream
50g/2oz Butter
1 tbsp Liquid Glucose Syrup
1 tbsp Vanilla Extract
Salt
Method:
1. Line a 20cm/8in square cake tin with baking parchment. Combine the sugar, cream, butter and glucose syrup in a saucepan over a medium-low
heat. Cook, stirring, until the sugar dissolves.
2. Put a sugar thermometer in the pan, making sure the end is completely covered; if not, transfer to a smaller pan. Increase the heat and
bring to a steady boil. Keep bubbling, stirring occasionally, until the mixture reaches 116°C.
3. Remove from the heat and leave, undisturbed, for five minutes, until the temperature drops to 110°C. Stir in the vanilla and a good pinch of salt.
4. Keep the sugar thermometer in the pan and beat vigorously with a wooden spoon until the temperature cools to 60°C. The fudge will be
thick and will have lost its glossy shine. Remove the thermometer and beat for a few minutes.
5. Before it sets, quickly pour the fudge into the tin and smooth over the surface. Leave to cool at room temperature overnight – do not refrigerate as it will become sticky and won't set properly.
6. Cut into bite-sized pieces. This will keep in a sealed container for up to two months.
Source: Odlums