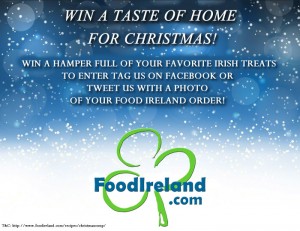 Win A Taste Of Home For Christmas!
Win a hamper full of your favorite Irish treats – To enter:
Tweet us with a photo of your Food Ireland order
or
post a photo of your Food Ireland order to our Facebook page!
Prize:
1 x Food Ireland Hamper
Competition closes on Monday December 19th at 11am EST.
One winner will be selected at random and announced on Monday December 19th. Delivery in the USA only.
Terms & Conditions:
1. This promotion is open to residents of the USA only. 2. No purchase necessary. 3. Entry is only available online. No responsibility can be accepted for entries not received, only partially received or delayed for whatever reason. 4. Entries only valid via Twitter. 5. Entries that are incomplete, defaced or damaged will be deemed invalid. 6. Entries must not be sent through agencies or third parties. Any such entries will be invalid. No trade or multiple entries. 7. No responsibility will be accepted for entries lost, delayed or damaged in transmission. 8. There is one entry per person. 9. Competition closes on Monday December 19th at 11am EST. Entries received after this time and date will not be entered into the draw. 10. The prize is 1 x Food Ireland Hamper for 1 winner. 11. The decision of the promoter in all matters is final and binding. 12. The Promoter reserves the right to withdraw the promotion due to circumstances beyond its control. 13. Neither Food Ireland Inc. ,or any other respective agents involved with this promotion shall be liable for any failure that is caused by something outside its reasonable control. Such circumstances shall include, but not be limited to, weather conditions, fire, flood, hurricane, strike, industrial dispute, war, hostilities, political unrest, riots, civil commotion, inevitable accidents, supervening legislation or any other circumstances relating to Force Majeure.