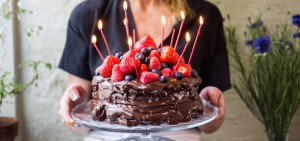 Ingredients:
For the cake:
11.5oz plain flour
1 teaspoon baking powder
1 teaspoon bicarbonate of soda
2.5oz cocoa powder
9oz superfine sugar
6oz Kerrygold unsalted butter
4 eggs
12.5floz milk
1 teaspoon vanilla extract
For the chocolate butter icing:
7.5oz cream cheese, softened
2oz butter, softened
2oz caster sugar
4oz cocoa powder
1 teaspoon vanilla extract
3.5floz Kerrygold Irish Cream Liqueur
To decorate:
3.5oz Blueberries
5oz Raspberries
7oz Strawberries
Method:
DIRECTIONS:
1. Preheat the oven to 350°F.
2. Grease the sides of two 8inch sandwich tins and line the bases with greaseproof paper.
3. For the cake: Place the caster sugar and unsalted butter in a mixing bowl, and cream together until light and fluffy. Then crack the eggs in one by one, with your mixer on medium speed. Next sift in the flour, bicarbonate of soda and baking powder. Lastly add in the milk, vanilla extract and cocoa powder. Mix everything together until combined.
4. Spoon the cake batter evenly into the two baking tins and tap the sides to release any air bubbles.
5. Bake in the pre-heated oven for 40 minutes. The cakes should be cooked on the outside but in the middle they should be fudgey. Remove the cakes from the oven and allow to cool in the tins for about 10 minutes before removing them from the tins and transferring them to a wire rack to cool completely.
6. For the frosting: place all the ingredients in a mixing bowl and blend together until it is light and fluffy.
7. To assemble, place one of the cakes top down, and spread with frosting. Place the other cake on top facing upwards. And smear the frosting on top and all around the edges of the cake.
8. Decorate the top of the cake with the fresh summer berries.
Source: Kerrygold