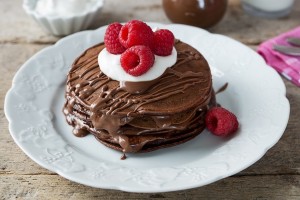 Ingredients:
100g/3oz Odlums Cream Plain Flour
25g/1oz Cacao Powder
Pinch of Salt
1 tablespoon Golden Caster Sugar
1 Egg
300ml/½pt Milk
Oil for frying
Method:
1. Sieve flour, cacao powder and salt into a bowl. Stir in the sugar.
2. Make a well in the centre of the flour, break in the egg and add about a third of the milk.
3. Beat well, gradually pouring in the rest of the milk and drawing in the flour to make a smooth batter.
4. Pour batter into a jug, cover and allow to stand for about 30 minutes.
5. Brush a pancake pan or frying pan with oil. When pan is hot, give batter a stir before pouring a thin layer onto pan.
6. Fry until browned on base and bubbling on top, then turn and cook the other side.
7. Repeat until batter is used up. Serve with your favourite toppings.
Note
For a decadent dessert, spread with melted chocolate or chocolate spread, and top with fresh raspberries and a dollop of Greek yoghurt or crème fraîche.
Source: Odlums