Like flapjacks, with a tangy lemon twist!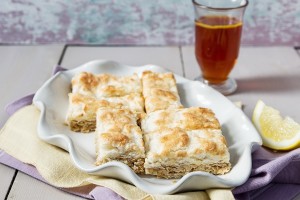 Ingredients:
Base
175g/6oz Porridge Oats
75g/3oz Butter or Margarine, melted
50g/2oz Caster Sugar
Filling
50g/2oz Odlums Cream Plain Flour
2 Eggs, separated
Pinch of Salt
125g/4oz Caster Sugar
Juice and Rind of 1 Lemon
Topping
Icing Sugar
Method:
1. Preheat oven to 180°C/350°F/Gas 4.
2. Line a swiss roll tin (28cm x 18cm/ 11″ x 7″ approx) with greaseproof paper.
3. Mix oats and sugar in a bowl. Add the melted butter or margarine and mix until all ingredients are moist.
4. Transfer to prepared tin and spread out evenly, then press down well.
5. Bake in preheated oven for about 10 minutes. Meanwhile, put the egg whites into a clean dry bowl.
6. Add a pinch of salt and stiffly beat.
7. Gently fold in remaining ingredients.
8. Pour filling over the partially baked base and bake for a further 20 minutes until set and golden brown.
9. Remove from oven and dust with icing sugar, then cut into bars.
Source: Odlums