The pumpkin makes this cornbread super moist, and makes it a pretty orange color, too!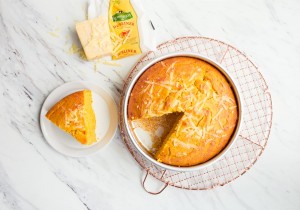 Ingredients:
1 cup canned pumpkin puree
2 large eggs
1/3 cup vegetable oil
1/3 cup buttermilk
1 cup all-purpose flour
1 cup fine cornmeal
1 tablespoon baking powder
1 teaspoon salt
1/2 cup granulated sugar
1/2 cup grated, plus extra for top Dubliner Cheese
Method:
1. First, preheat the oven to 375, and spray an 8" round cake pan with cooking spray.
2. In a large bowl, whisk together the pumpkin, eggs, oil, and buttermilk.
3. Next, sprinkle the flour, cornmeal, baking powder, salt and sugar on top, and gently whisk until combined.
4. FInally, stir in the grated Dubliner cheese.
5. Scrape the batter into the prepared pan, and sprinkle extra Dubliner on top (as much as you like!).
6. Bake the cornbread for 33-35 minutes, until a toothpick inserted comes out clean with only moist crumbs clinging to it.
7. Let the cornbread cool in the pan slightly, and then run a knife around the edge to help remove it from the pan. Slice and serve.
Source: Kerrygold