Delicious Kerrygold Cheesy Breakfast Tacos, can be made ahead of time or enjoyed fresh.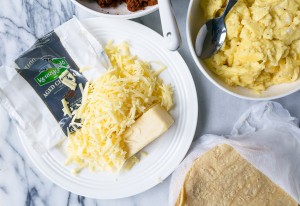 Ingredients:
Cheesy Chorizo Make-Ahead Breakfast Tacos
12 ounces chorizo (or soy-rizo)
7 large eggs
2 tablespoons milk
1/2 teaspoon salt
1/4 teaspoon freshly grated black pepper
4 ounces grated Kerrygold Aged Cheddar
1/2 cup store-bought salsa
10 small corn tortillas
Method:
1. First, in a large skillet over medium-high heat, crumble the chorizo and cook until well-done.
2. Drain the grease. Place the chorizo in a small bowl.
3. Wipe out the skillet, return it to the pan, and lower the heat to medium-low.
4. In a medium bowl, add the eggs and beat with milk, salt and pepper.
5. Add the eggs to the pan and cook until scrambled. Move to a small bowl and set aside.
6. Place the cheese in a small bowl.
7. Next, warm up the tortillas.
8. Meanwhile, place 10 sheets of foil at the end of the station.
9. Place a corn tortilla in front of you, add a small scoop of eggs, chorizo, and a sprinkling of cheese.
10. Dollop with salsa, if desired.
11. Fold the tortilla in half, and wrap the foil around the taco.
12. Place the tacos in a freezer-safe bag and freeze.
13. To eat, remove from foil, microwave on HIGH for 1 minute. Let rest in the microwave for 1 minute before serving.
Source: Kerrygold USA