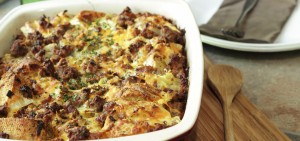 Ingredients:
8 white bread slices, cut into cubes
1 pound bulk pork sausage, crumbled and cooked
1 1/2 cups grated sharp cheddar (we suggest Kerrygold's Dubliner or Reserve Cheddar Cheese)
10 large eggs
2 cups milk (do not use lowfat or nonfat)
2 teaspoons dry mustard
1 teaspoon salt
Butter (only pure Irish butter of course!)
Method:
1. Grease 9×13-inch glass baking dish with Kerrygold butter. Place bread in prepared dish.
2. Top with sausage and cheese. Beat together eggs and next three ingredients. Season with pepper.
3. Pour over sausage mixture. (Can be prepared 1 day ahead. Chill.)
4. Preheat oven to 350°F. Bake casserole until puffed and center is set, about 50 minutes. Cut into squares.
Source: Kerrygold