Hearty potatoes and apples sautéed in Kerrygold Butter and baked with bacon make a dish perfect for chilly fall and winter evenings. A family meal cooked with pure Irish butter is enough to warm any heart.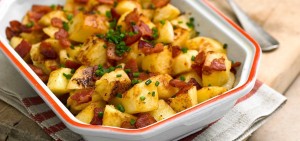 Ingredients:
3 pounds potatoes, peeled and cut into 1 1/2-inch cubes
1 1/2 pounds tart cooking apples (such as Granny Smith), peeled and cut into 1 1/2-inch cubes
6 slices thick cut bacon, coarsely chopped
6 tablespoons Kerrygold Pure Irish Butter
Chopped chives for garnish, optional
Method:
1. Cook potatoes in boiling salted water for about 8 minutes or until almost cooked through.
2. Add apples and cook for 5 minutes more or until potatoes and apples are tender; drain well.
3. While potatoes are cooking, heat oven to 400° F and lightly butter an 11 X 7-inch baking dish.
4. In a large skillet, cook bacon over medium-high heat for about 5 minutes or until golden brown and crisp, stirring frequently.
5. Remove with a slotted spoon, then remove all but 2 tablespoons of bacon fat; add Kerrygold Pure Irish Butter to skillet.
6. When butter has melted, add potatoes and apples. Toss well to coat with butter; cook and stir for about 5 minutes over medium-high heat to lightly brown.
7. Transfer to prepared baking dish and top with cooked bacon. Bake for 15 minutes. Sprinkle with chives, if desired.
Source: Kerrygold