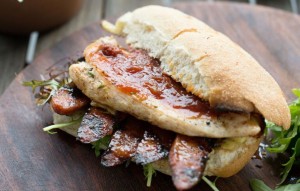 Ingredients:
(Serves 4)
2 chicken breasts
Salt and pepper
A little olive oil
225g Chorizo sausages
4 Handful of your favourite salad leaves and herbs ( Rocket, spinach, lambs leaf, gem, chive, parley)
Ballymaloe Honey Mustard Dressing
4 soft white or wholemeal buns
Ballymaloe Relish
Method:
1. Heat the BBQ grill to medium-high. Season the chicken breasts with salt and pepper and a little olive oil.
2. Place the chicken on grill (if using skin-on chicken, place skin side down on grill).
3. Grill chicken, without turning for 6 to 10 minutes. Flip and grill for 8-10 minutes or until cooked through.
4. Cook the chorizo sausages for 10-15 minutes depending on their thickness.
5. It is nice to split the chorizo sausages length ways and griddle each side for the final minute.
6. Toast the buns on the BBQ if you like. Toss the salad leaves in Ballymaloe Honey Mustard Dressing.
7. To assemble, to each bun add the salad leaves, pieces of BBQ chorizo, slices of chicken and top with Ballymaloe Relish.
Source: Ballymaloe Foods